Do not lay up for yourselves treasures [deposit/wealth] on earth, where moth and rust destroy and where thieves break in and steal; but lay up for yourselves treasures in heaven, where neither moth nor rust destroys and where thieves do not break in and steal. For where your treasure is, there your heart [thoughts/feelings] will be also. -- Matthew 5:19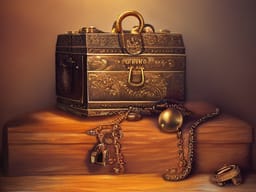 "Provide for yourselves purses that don't wear out, and save your riches in heaven, where they will never decrease, because no thief can get to them, and no moth can destroy them. For your heart will always be where your riches are." -- Jesus - Luke 12:33-34 (GNT)

Then Jesus said to His disciples, "If anyone desires to come after Me, let him deny himself, and take up his cross [a torture instrument - not the Catholic cross], and follow Me. For whoever desires to save his life will lose it, but whoever loses his life for My sake will find it. For what profit is it to a man if he gains the whole world, and loses his own soul? Or what will a man give in exchange for his soul? For the Son of Man will come in the glory of His Father with His angels, and then He will reward each according to his works. -- Matthew 16:24

As for the rich in this present age, charge them not to be haughty, nor to set their hopes on the uncertainty of riches, but on God, who richly provides us with everything to enjoy. They are to do good, fto be rich in good works, to be generous and ready to share, thus storing up treasure for themselves as a good foundation for the future, so that they may take hold of that which is truly life. -- 1 Timothy 6:17-19

For the Son of Man will come in the glory of His Father with His angels, and then He will reward each according to his works. -- Matthew 16:27
Rewards
something given or received in return for a deed or service rendered
a sum of money offered, esp for help in finding a criminal or for the return of lost or stolen property
profit or return
something received in return for good or evil; deserts
(Psychology) Psychol any pleasant event that follows a response and therefore increases the likelihood of the response recurring in the future
How to earn rewards
Each one will receive his own reward according to his own labor. -- 1 Corinthians 3:8
By building the Kingdom of God
For we are God's fellow workers; you are God's field, you are God's building. According to the grace of God which was given to me, as a wise master builder I have laid the foundation, and another builds on it. But let each one take heed how he builds on it. For no other foundation can anyone lay than that which is laid, which is Jesus Christ.

Now if anyone builds on this foundation with gold, silver, precious stones, wood, hay, straw, each one's work will become clear; for the Day will declare it, because it will be revealed by fire; and the fire will test each one's work, of what sort it is.

If anyone's work which he has built on it endures, he will receive a reward. If anyone's work is burned, he will suffer loss; but he himself will be saved, yet so as through fire.

-- 1 Corinthians 3:9-15

For if I do this [preach the gospel] willingly, I have a reward -- 1 Corinthians 9:17
By generosity to the poor
For if you love those who love you, what reward have you? Do not even the tax collectors do the same? -- Matthew 5:46

And if you greet your brethren only, what do you do more [than others?] Do not even the tax collectors/gentiles do so? -- Matthew 5:47

But when you do a charitable deed, do not let your left hand know what your right hand is doing, that your charitable deed may be in secret; and your Father who sees in secret will Himself reward you. -- Matthew 6:3
By supporting fellow believers
He who receives [accept] a prophet in the name of a prophet shall receive a prophet's reward.

And he who receives [accept] a righteous man in the name of a righteous man shall receive a righteous man's reward. -- Matthew 6:41

For whoever gives you a cup of water to drink in My name, because you belong to Christ, assuredly, I say to you, he will by no means lose his reward. -- Matthew 10:42; Mark 9:41
By enduring persecution
Blessed are those who are persecuted for righteousness' sake, for theirs is the kingdom of heaven.

Blessed are you when they revile and persecute you, and say all kinds of evil against you falsely for My sake.

Rejoice and be exceedingly glad, for great is your reward in heaven.

-- Matthew 5:10-12; Luke 6:22-23

And He said to them, Truly I say to you, There is no one who has left house, or parents, or brothers, or wife, or children for the sake of the kingdom of God, who shall not receive many times more in this present time, and, in the world to come everlasting life. -- Luke 18:29
By a private relationship the Father
But you, when you pray, go into your room, and when you have shut your door, pray to your Father who in the secret and your Father who sees in secret will reward you. -- Matthew 6:6 [see original Greek]
How to forfeit rewards
Hypocrisy will cause you to forfeit your rewards.
Grudges
If against my will, I have been entrusted with a stewardship [religious administration]. What is my reward then? -- 1 Corinthians 9:17-18
Showing partiality
He said also to the man who had invited him, "When you give a dinner or a banquet, do not invite your friends or your brothers or your relatives or rich neighbors, lest they also invite you in return and you be repaid. But when you give a feast, invite the poor, the crippled, the lame, the blind, and you will be blessed, because they cannot repay you. For you will be repaid at the resurrection of the just." -- Luke 14:12-14 (ESV)

Whatever you do, do it heartily [from your inner being where action proceeds], as to the Lord [Master] and not to men, knowing that from the Lord [Master] you will receive the reward of the inheritance; for you serve the Lord [Master] Christ. But he who does wrong will be repaid for what he has done, and there is no partiality. -- 1 Corinthians 3:24
Public attention
Take heed that you do not do your charitable deeds before men, to be seen by them. Otherwise you have no reward from your Father in heaven. Therefore, when you do a charitable deed, do not sound a trumpet before you as the hypocrites do in the synagogues and in the streets, that they may have glory from men. Assuredly, I say to you, they have their reward. -- Matthew 6:1-2

And when you pray, you shall not be like the hypocrites. For they love to pray standing in the synagogues and on the corners of the streets, that they may be seen by men. Assuredly, I say to you, they have their reward. -- Matthew 6:5

Moreover, when you fast, do not be like the hypocrites, with a sad countenance. For they disfigure their faces that they may appear to men to be fasting. Assuredly, I say to you, they have their reward. -- Matthew 6:16

But you, when you fast, anoint your head and wash your face, so that you do not appear to men to be fasting, but to your Father who in the secret and your Father who sees in secret will reward you -- Matthew 6:17 [see original Greek]
Pleasing people
Let no one therefore judge you in eating or in drinking, or in respect of a festival or a new moon or Sabbaths which are a shadow of what is to come – but the Body of the Messiah. Let no one deprive you of the prize [reward], one who takes delight in false humility and worship of messengers, taking his stand on what he has not seen, puffed up by his fleshly mind, and not holding fast to the Head, from whom all the Body – nourished and knit together by joints and ligaments – grows with the growth of Elohim. -- Colossians 2:16-19
Self-imposed worship
If, then, you died with Messiah from the elementary matters of the world, why, as though living in the world, do you subject yourselves to regulations: "Do not touch, do not taste, do not handle" – which are all to perish with use – according to the commands and teachings of men? These indeed have an appearance of wisdom in self-imposed worship, humiliation and harsh treatment of the body – of no value at all, [only] for satisfaction of the flesh. -- Colossians 2:20-23
In other words, if you do a good deed for the sake of keeping a law, to proof you are a "good person", then this too is considered Hypocrisy because you are not willing generous or building the Kingdom of God.